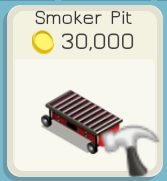 The Smoker Pit is an Buildable Appliance. It currently can make only one recipe: Babyback Ribs.
Costs and Aquiring
Edit
The Smoker Pit costs 30,000 In-Game Coins.
To build it, you must either receive certain parts from your neighbors, or buy each part for 2 gems apiece.
The parts required are:
The Smoker Pit currently has only one recipe.
| Name: | Time: | Costs: | Coins Earned: | XP Earned: | Servings: |
| --- | --- | --- | --- | --- | --- |
| Babyback Ribs | 4 Hrs | 600 C | 2,000 C | 53 | 500 |